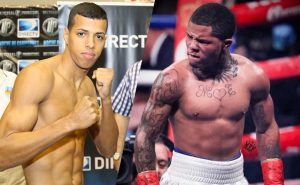 OK, this isnot only a really good matchup, but it will help the WBA clean up its mess (and they have a lot of them with their myriad of belts throughout various divisions) at junior lightweight. Despite Machado (21-0, 19 KOs) having won the title in October 2017 by stopping Jezreel Corrales in eight rounds, it's "Tank" Davis who is listed by the WBA as their "super" champion after he won this version of the title several months later by running over Jesus Cuellar in three rounds.
OK, regardless of all this, Davis-Machado pits two offensive- minded southpaws who couldn't have more contrasting styles. The 24-year-old Davis is a stocky and well-built left-hander who doesn't hesitate to move forward and bang away with both hands. While Puerto Rico's Machado, 28, is a tall, angular puncher who seems to be coming into this own under the guidance of noted trainer, Freddie Roach.
Whoever controls the distance of this fight, has a huge advantage tactically. While Davis is just a shade above 5-foot 5, Machado is 5-foot-10.
Both can bang; both do it in different ways.