1) Terence Crawford (35-0, 26 KO) Age: 31
Crawford is still on top of our list, he can box from both sides effortlessly, he can punch, and he's got an old school chip on his shoulder. He had one of the strongest years of any fighter in 2017, a Fighter-of-the-Year-worthy run in 2014, and a sensational move to 140 lbs. in 2015. Now he's stuck in wait mode to see what Top Rank will bring forward at welterweight. Many believe the best fight for Crawford would be against Errol Spence. Will the politics and business structure of boxing keep Crawford from defining fights in this weight class?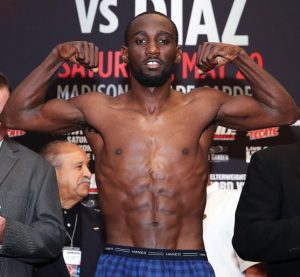 2) Naoya Inoue (18-0, 16 KO) Age: 26
Inoue has been sensational from the start. A fighter who defeated the then future unified 108 lb. titlist Ryoichi Taguchi in only his fourth pro fight and won his first pro title in his sixth. Now competing at bantamweight, the scary thing for future foes is Inoue may only be hitting his prime. The man called "Monster" debuted at 118 lbs. with a first round knockout of McDonnell that impressed. Inoue ran over Omar Narvaez in just two rounds in 2014. Look for the veteran Nonito Donaire to give Inoue a chance to unify his newly won IBF strap with the full WBA honors. He etches his way to number two.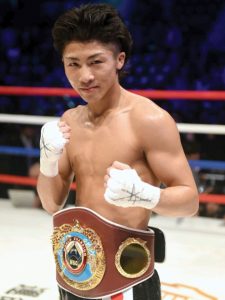 3) Vasyl Lomachenko (13-1, 10 KO) Age: 31
Lomachenko is phenomenal and makes it look easy. Since moving up to Jr. lightweight, he put four straight opponents out in devastating fashion. It took him one punch to knockout the durable Roman Martinez. In an excellent clash between skilled men at the top of their games, Lomachenko came off the floor to knock out Linares with a devastating body shot. Recovered from surgery for a torn labrum in that fight, Lomachenko added a second belt to close 2018 with a decision over Jose Pedraza before getting back with a win over former titlist Anthony Crolla. Now, he will try to add the vacant WBC strap to his trophy case in his next bout with young lion Luke Campbell.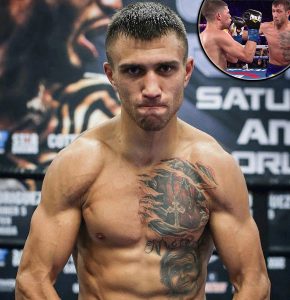 4) Saul Alvarez (52-1-2, 35 KO) Age: 28
Many believe Alvarez didn't win either fights against Gennady Golovkin but the debate was much louder the first time around. In a razor close rematch, both men fought their hearts out and the narrow advantage went to Alvarez. Even after Alvarez's failed drug test for the delayed rematch. We know he tested vigorously for the return, came up clean, and fought even better the second time. He rarely beats his best foes with room to spare, and Alvarez has faced the best Jr. middleweight and middleweight have to offer since his close win over Austin Trout and that continued with Jacobs. He's great and walks away with our 4th spot.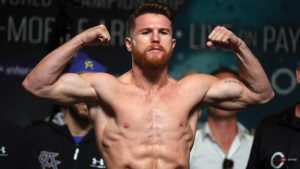 5) Oleksandr Usyk (16-0, 12 KO) Age: 32
The 2012 Olympic Gold medalist at heavyweight from Ukraine reached the final of the excellent World Boxing Super Series at Cruiserweight. He closed it out in style, turning one of the most anticipated fights of 2018 into a showcase and picked up a rare four-belt unification. Cruiserweight is currently filled with many talents and Usyk is separate from the pack. He extended that separation by stopping a Tony Bellew who had never lost the WBC belt. Usyk has fought seven straight away from his native Ukraine, six of them in the home country of his opponent. Now, he moves into the unlimited class, delayed for now by injury, with sights on the best heavyweights. He is a commendable and helluva fighter, so we give him our 5th spot.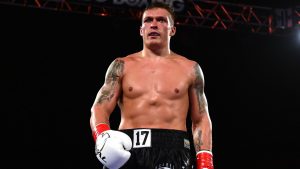 6) Errol Spence Jr. (25-0, 21 KO) Age: 29
Spence showed real chops against Garcia and he won his first title from Kell Brook who had never lost at welterweight. Spence in his previous two fights handed first career stoppage losses to a Leonard Bundu and Chris Algieri who had taken Keith Thurman and Manny Pacquiao, respectively, the distance. Spence arguably didn't let Mickey Garcia see a single winning round. The southpaw can box, has size and speed, can punch, and he knows how to finish. Spence could reasonably unify three of the four major titles in the class over the next year. For now, we make him our 6th top fighter pound for pound.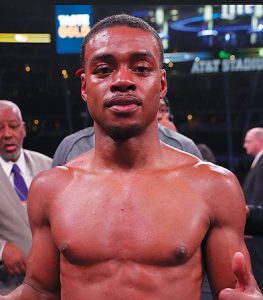 7) Gennady Golovkin (39-1-1, 35 KO) Age: 37
Golovkin needs a dance partner, just like Marvin Hagler needed Sugar Ray Leonard to help cement him as one of the greatest middleweights of all time. Saul Alvarez is that partner. For now, Golovkin is still empty-handed and needs a win over Alvarez to set his mark in the middleweight division. But, question is, will there be a third fight? If there is one place Golovkin can commiserate with Hagler, it is that his Alvarez outcomes might be the bitterest endings since Hagler-Leonard. He remains one of the best fighters in the world but, at 37, how much time is left on his side?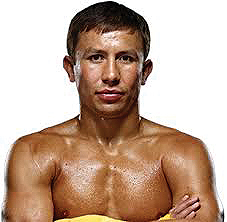 8) Juan Francisco Estrada (39-3, 26 KO) Age: 29
One of Mexico's most talented fighters over the last decade avenged his last defeat with a fantastic display of smart boxing in April to stake his place atop the Jr. bantamweight division. Since exploding to a broader acclaim in a classic with Roman Gonzalez in 2012. Now has been one of the great eras near Estrada's weights and he can say he has avenged two of his career defeats. Unification with another belt holder would be exciting, as would a rubber match with Sor Rungvisai. Should he elect to move up another weight class, would anyone not be fascinated by a showdown with Inoue?  Estrada captures our 8th Spot.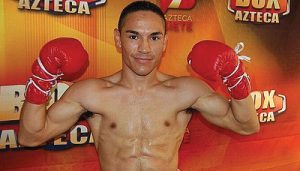 9) Deontay Wilder (41-0-1, 40 KO) Age: 33
Few heavyweights bring the action like Wilder. Once the Alabama product hurts an opponent he unfurls the madness and the punches fly. His battle against Great Britain's Tyson Fury was a perfect example of heavyweight power. One punch is all it takes for Wilder to prove superiority, just like he did against Dominic Breazeale with a devastating first round knockout. Though his fight with Fury ended in a draw, he remains one of the most exciting fighters on the planet. And he's a heavyweight.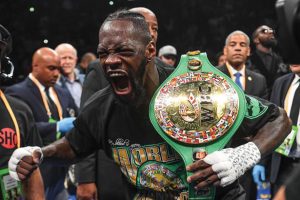 10) Mikey Garcia (39-1, 30 KO) Age: 31
Based on the form we'd seen since Garcia's return in 2016, it's not unfair to think Garcia might have been flirting with the top spot had he not lost over two years to inactivity. That was before he showed no answers against Errol Spence. There's no shame in a fighter who won his first title at featherweight moving up for a loss to one of the best welterweights in the world. Only two men who won the featherweight crown even won a piece of the welterweight honors: Henry Armstrong and Manny Pacquiao. Garcia not being quite at that level doesn't mean he might not remain the best lightweight. We will wait for the fight with Lomachenko to be made, so for now Mikey makes it to our 10th spot.