Layla McCarter (43-13-5) – This year Layla McCarter fought overseas and was unable to obtain a fight against any top contender. The Las Vegas prizefighter had wins over Eva Bajic and Victoria Cisneros. She's been our pound for pound number one for the past year. Nobody has been able to beat her in 11 years. McCarter has more boxing skills than any other woman fighting today. But time is running out on the road warrior who turns 40 next year.
Cecilia Braekhus (35-0) – The Norwegian queen had a busy 2018 with three wins. But her last fight proved that fighting European opponents is a waste of time. American prizefighters are vastly superior in the welterweight class and above. Braekhus should only compete against the American women from now on. She is very good but time is wasting for the extremely athletic champion. A match with Layla McCarter, Hanna Gabriels or Claressa Shields would be the most attractive fights.
Claressa Shields (8-0) – She stormed the boxing scene in 2018 with four fights including the firefight with Hanna Gabriels and she is only 23. That's a scary thought for future opponents. She has blazing speed and once she gets the hang of professional boxing, she will dominate. Dropping down in weight has proven to be great for female boxing. There's more talent in the middleweights and super welterweights.
Amanda Serrano (36-1-1) – The Puerto Rican southpaw bomber only had one fight and that was against a super lightweight in winning a sixth division world title. Now she's looking to add a seventh in the super flyweight division. Serrano should fight Naoko Fujioka of Japan. Both are pound for pound fighters. The entire female boxing world would love to see it. Serrano has been fighting in MMA and looked rusty in her last boxing match. But she still has very polished fighting skills and a big heart.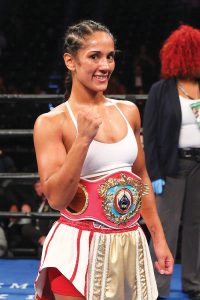 Naoko Fujioka (18-2) – Japan's greatest female fighter wants a crack at Amanda Serrano. Fujioka has won two WBO titles and Serrano is looking to win a WBO title in the super flyweight division. She's fearless. This past year she's been training in Southern California with boxing guru Ben Lira who works alongside Abel Sanchez. Lira has been one of the best kept secrets but those in boxing circles know he taught the great Mariana Juarez and Lourdes Juarez. Now he's honing Fujioka's athletic prowess into a fighting machine.
Yesica Bopp (35-1) –Argentine speedster obliterated the competition this year with two wins by knockout. The only drawback for "La Tuti" is she has not fought outside of Argentina in years. She has a win over fellow Argentine Daniela Bermudez four year ago. She has remarkable athleticism and has developed her punching power. She told one of our writers that a fight in America would be a dream. There's plenty of rising talent in the light flyweight division especially in California and Texas.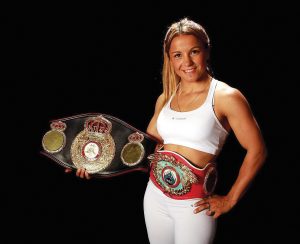 Daniela Bermudez (24-3-3) – The Argentine boxer has an upset win over legendary fighter Marcela Acuna in a world title fight. She's slated to fight in a couple of weeks against Mexican fighter Jasseth Noriega. Bermudez has a win over Mexico's legendary Mariana Juarez that took place two years ago. Maybe a rematch is a possibility. Bermudez is rising up the ranks of this list and could possibly overtake Bopp. She's very good and has won bantamweight and super bantamweight world titles.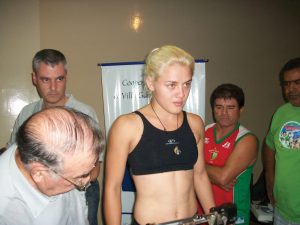 Mariana Juarez (52-9-4) – The Mexican queen of boxing was busy in 2018 she won four fights this year. Juarez fought and defeated Australia's Susie Ramadan, Japan's Terumi Nuki, Costa Rica's Carolina Arias and Uruguay's Gabriela Bouvier.. Juarez seems to be fighting at her best as a bantamweight. A super fight showdown against Jackie Nava was supposed to take place last month but now seems to be slated for early 2019.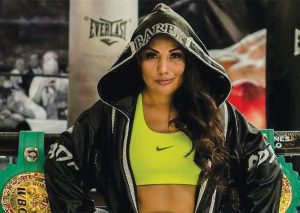 Katie Taylor (12-0) –Taylor's first time on this list. Last year we felt the Irish fighter had not fought anyone of consequence until she fought Jessica McCaskill. Taylor deserves a spot on this list. She fights Eva Wahlstrom next. They have fought each other many times as amateurs but fighting 10 rounds is a lot different. Should be competitive. Taylor has speed and stamina and is slowly learning the pro game. If she passes Wahlstrom look for a number of big matchups including a bout with Delfine Persoon who has a lightweight world title.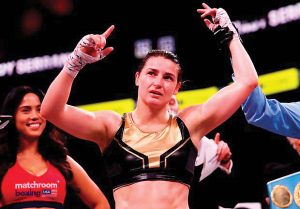 Kenia Enriquez (21-1) – The light flyweight with heavy hands and speed has become Mexico's most avoided female fighter. Contractual problems kept her from fighting but she did have one bout. Last October, Enriquez nullified knockout puncher Norleidys Graterol of Venezuela for 10 rounds and won handily. Tijuana's Enriquez has a lot going for her. She's only 25 and has the itch to fight internationally. So far no one seems interested in the light flyweight division. But her day will come.