By: John Kelly
Three-division world champion Terence Crawford hungers to defend his WBO welterweight world title in a mega fight and finds Great Britain's former world champion Amir Khan the perfect punching bag. After months of failing to entice any other top American welterweights, Crawford's search has ended.
Nebraska's speedy Crawford (34-0, 25 KOs) travels to New York City to meet the equally fast Khan (33-4, 20 KOs) on April 20 at Madison Square Garden. The WBO welterweight clash will be shown on Top Rank/ESPN pay-per-view.
The last time we saw Crawford he was in a strategic face-to-face with Jose Benavidez for 11 rounds, trading snappy explosive blows until a lightning combination mixed with a right uppercut short-circuited the legs of Benavidez. Soon after, Crawford delivered the killing blows, ending the fight and giving him his first victory in defense of the world title.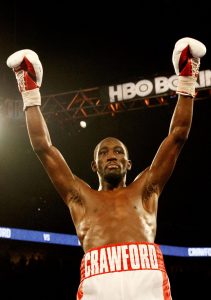 The sudden ending awed many observers.
Some are even saying that the young and strong Crawford is the top pound-for-pound prizefighter in the world and should be heavily favored when he defends his welterweight title against Khan. This is because Khan has been inactive on and off for several years, and because Crawford is the better fighter today and in his prime. The Omaha native has impressed the world with his victories in the lightweight division with his knockout over Cuba's Yuriorkis Gamboa in June 2014 and clobbering of Puerto Rico's Thomas Dulorme to win the super lightweight world title in April 2015. Last year in June 2018, Crawford defeated Manny Pacquiao's conqueror to win the WBO welterweight world title.
"I can't wait to head back to New York City and Madison Square Garden for this fight with Amir Khan. The Garden is the perfect venue for a fight of this magnitude," Crawford said. "I know that my fans will make the trip up to New York and I'll have a ton of support when I step in to the ring. I expect Khan's British fans to come out as well, and I believe we will have a packed house on April 20. It's going to be a great fight so make sure to get your tickets early."
On the other hand, Khan has long been one of the few fighters' whose speed allows him to fight at much heavier weights. Hark back to his challenge against Saul "Canelo" Alvarez in May 2016 when he jumped out to lead against the much heavier and stronger Mexican redhead for five rounds. Despite his edge in agility, Alvarez knocked out Khan with a brutal right cross that left the speedy Brit unconscious for several minutes. Khan slowly arose and the crowd cheered for the valiant fighter who never shies away from a challenge.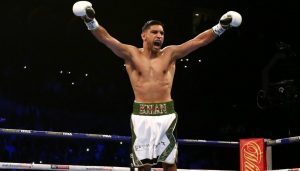 The last time Khan stepped in the boxing ring was last September when he exchanged knockdowns with Samuel Vargas in the second round in that clash in Birmingham, Alabama. Early into the fight, the former Olympian figured out the Canadian fighter's style and dominated the reminder of the match to win by unanimous decision.
The crowd still cheers whenever Khan fights in the ring because of his vast fighting skills and his bravery in the prize ring. Many experts foresee that the British fighter's experience will cause problems for Crawford in the beginning. Some even see an upset possibility when both welterweights mix and match blows in New York City.
"New York is undoubtedly one of my most favorite cities in the world, and it's like a second home to me," Khan said. "This is the biggest fight of my career against one of the world's best in Terence Crawford, and Madison Square Garden is the perfect venue for a fight of this magnitude. It's a short flight for my fans from the United Kingdom, and they will be coming over in droves to see this fantastic fight. I want to become a three-time world champion, and that is my primary motivation to win this fight."
Khan, 32, is a year older than Crawford. He's fresh with only two fights in the last two years and a better all-around fighter than some give him credit for. Lest we forget, he won a silver medal in the 2004 Olympics at 17 years old and has won three major junior welterweight titles. Many often forget that Khan is 10-3-1 against former or current world titleholders and 6-3 in title bouts. Among those victims are Marco Antonio Barrera, Paulie Malignaggi, Marcos Maidana, Zab Judah, Luis Collazo and Devon Alexander.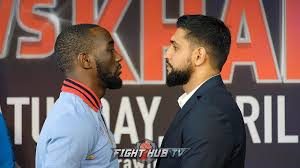 That's the resume of an excellent fighter.
Crawford may be a large favorite in the eyes of the casual boxing fan but Khan still has elite fighting skills that can't be ignored. He will be a strong test for the WBO welterweight titlist Crawford from Nebraska