The most significant fight in women's boxing history is back on.
After the initial fight that was scheduled on November 17 was postponed due to an undisclosed medical condition from Christina Hammer, the German fighter will now try and defend the WBO middleweight world title against Claressa Shields, who holds three of the four major middleweight (160 lb.) belts. They will meet for the undisputed championship on April 13 at the Adrian Phillips Theater at Boardwalk Hall in Atlantic City, New Jersey.
Undefeated Olympian Boxer Claressa Shields
With a record of 8-0 (2 KOs), Claressa Shields, 23, will fight to earn the title of undisputed middleweight world champion. Shield's father introduced boxing to her at age 11 and her fighting career was launched. Shields, a Flint, Michigan native, showed the world her tremendous talent at the 2012 Summer Olympics in London, winning a gold medal in a 19-12 victory against Russia's Nadezda Torlopova. Shields later returned, becoming the first American to defend her title at the 2016 Rio Olympics. She was the first American to ever win consecutive gold medals in boxing. After the 2016 Olympics, Shields went pro and headlined the Detroit Brawl, the first woman's match on a premium cable network. Shields first won a WBC and IBF title in the 168-pound super middleweight class until ultimately switching classes. In June 2018 Shields won the IBF and WBA middleweight titles and the WBC title in November.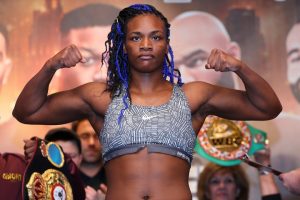 Undefeated German Boxer Christina Hammer
German professional boxer Christina Hammer, 28, is fighting to keep her WBC, which she holds in recess, and WBO title. She also seeks to become the undisputed middleweight champion. Not a lot is known about Hammer's personal life. She was born in Novodolinskii, Kazakhstan in 1990 before her parents relocated to Sontra, Germany in '91. Hammer was introduced to boxing by her uncle at age 13 and at age 18 she decided to move away from home in hope to become a professional boxer. Hammer began her professional career in 2009 at only 19-years-old and holds a record of 24-0 with 11 KOs. Hammer made her U.S. debut last June, retaining her WBO and WBC titles. This would mark the first time that a German fighter would successfully defend their title in the U.S. since Max Schmeling defended his heavyweight title in 1931. Hammer captured the WBO title in 2010 and WBC title in 2016. She moved up in weight in 2013 to grab the WBO super middleweight title by decision against Zita Zatyko then immediately returned to the middleweights. A moved down to the super welterweights resulted in a No Contest in 2014 when she was supposedly knocked out by Anne Sophie Mathis. It was later ruled that the punch was illegal and the lost was changed to a No Contest despite protests. Since that moment Hammer has remained undefeated. The German champion believes she will remain undefeated because she is "bigger, stronger and more experienced," than Shields and that she "is the best and undisputed middleweight champion of the world."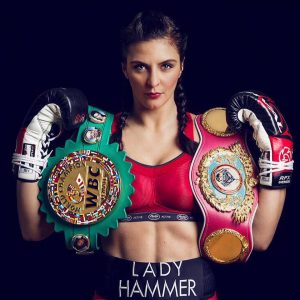 Comparing Fights against Tori Nelson
Christina Hammer stands at 5'11" and made her U.S. debut on June 22, 2018 against the previously undefeated Tori Nelson (17-2-3, 2 KOs). They went 10 rounds and Hammer won by unanimous decision (100-90, 99-91, 99-91). Hammer had distance on her side considering Nelson stands at only 5'6" and she has a powerful jab that she uses to slow down her opponents. Claressa Shields, 5'10", also faced off against Nelson on January 18, 2018. Shields also had crisp jabs against Nelson and effective dodging ultimately leading to her unanimous win over Nelson with 100-90, 100-90, 100-90. In their bouts against Nelson, both women retained their titles.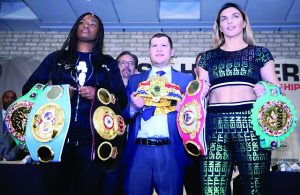 The winner of Shields-Hammer will be only the second in women's boxing history to be claimed undisputed women's world champion. The first is Cecilia Braekhus (35-0, 9 KOs) who accomplished the feat in the welterweight division in 2014. This fight will definitely be a game changer, so grab your flights and head to Atlantic City to witness history, or just watch it on Showtime.