By Tristin Taylor/Jess Jimenez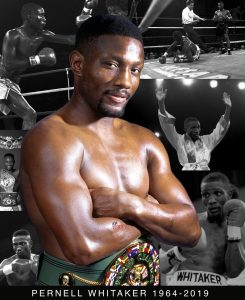 Pernell Whitaker nicknamed "Sweet Pea," the legendary champion of boxing's four weight classes, dies at age 55.
Legends never die, and that definitely applies in the boxing world. Pernell 'Sweet Pea' Whitaker continues to be a phenomenon in the boxing world. Although his life was recently cut short, the boxing world continues to pay homage to his legacy and remembers the Olympic Gold Champion who graced everybody with his presence.
The Virginia-born southpaw was widely known as the greatest pound-for-pound fighter of his generation and a defensive ring artist whose genius for dodging punches, which helped him win an Olympic gold medal and world championships in four weight classes. Whitaker was an elusive left-hander who regularly slipped away from his opponents, dancing across the ring en route to a slew of world titles. He became the undisputed lightweight champion after defeating Juan Nazario in 1990 and also won titles as a light welterweight, welterweight and light middleweight.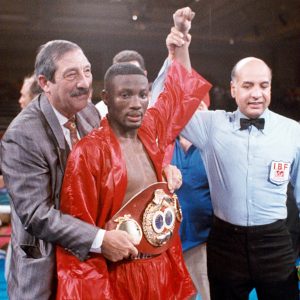 'Sweet Pea' Is Born
Whitaker was born in 1964 and grew up as a street fighter, beginning to box at age 8. At 10 he fought in the Norfolk Arena; by 13 he was battling against sailors from the nearby naval base. He entered national tournaments and went 201-14 as an amateur, winning many events including the 1983 Pan American Games. He acquired the nickname 'Sweet Pea' after a reporter misheard his friends calling him 'Sweet Pete' at a boxing match. The Nickname stuck with him and he used it for the rest of his career.
Whitaker started his career in boxing in 1984 at age 20, where he dominated the lightweight division at the 1984 Olympics in Los Angeles. He was one of nine American boxers to win a gold medal at the games, being labeled as a promising fighter by many of his counterparts. Three months after the Olympics, he and several other members of the United States boxing team, among them Evander Holyfield and Mark Breland, made their professional debuts at Madison Square Garden. Whitaker stopped his opponent, Farrain Comeaux, on a technical knockout late in the second round.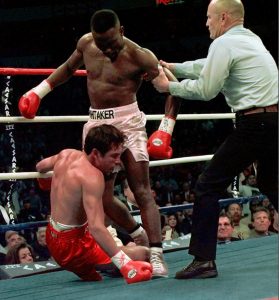 It was the first of Whitaker's 15 consecutive victories through 1988, a pace that was slowed temporarily by an injury that kept him from fighting on a card at the Pavilion Convention Center in Virginia Beach in December 1985. But he still showed up at the arena — to marry his fiancée, Rovanda Anthony, in the ring after the evening's last fight.
Whitaker lost his first chance at a championship in 1988, but he rebounded the next year when he won the International Boxing Federation World Lightweight Title from Greg Haugen. He was later named "fighter of the year" by the media after defeating Haugen, winning his first lightweight world title.
He then beat Rafael Pineda for the I.B.F. Super Lightweight Title in 1992 and Buddy McGirt for the World Boxing Council Welterweight Belt in early 1993. The victory over McGirt set him up for a much-anticipated fight against Julio Cesar Chavez at the Alamodome in San Antonio.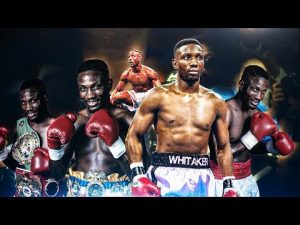 Considered Greatest Boxer Of His Time
Whitaker was known for being one of the best defensive fighters and pure boxers who ever fought. One fighter who was influenced by his technique in the ring is Floyd Mayweather. Mayweather had high admiration for the boxer and idolized his moves and punching style. Whitaker later retired from boxing in 2001 with a professional record of 40-4-1, with 17 KOs to follow as well as three highly controversial decisions.
The most well known controversial decision of Whitaker's career was in 1993 when he fought Julio Cesar Chavez. Many boxing fans believed that Whitaker was the winner of this match, but the match was scored as a draw. This fight caused so much talk that it landed a spot on the cover of Sports Illustrated with the headline, "Robbed!" Whitaker out-landed Chavez 311 to 220 and threw 153 more punches!
Whitaker and Chavez, who was 87-0 at the time, were considered two of the greatest boxers, pound for pound, of their day. They offered contrasting styles: Whitaker was mobile and slippery, Chavez an aggressive attacker. Yet, in a fight that many observers thought Whitaker had won easily, two judges called it a draw and a third voted for Whitaker, leaving the fight ruled a draw.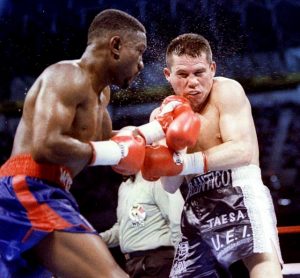 "Last night it was like someone put a knife in me and twisted it," Whitaker told Sports Illustrated, irate at the decision. He added: "I mentally and physically beat him. I put an old-fashioned project beating on him. A housing authority beating. A ghetto beating."
The draw let Whitaker hold onto the title, and he won his next eight fights, including one that brought him the World Boxing Association Super Welterweight Title. He then faced the undefeated Oscar De La Hoya in 1997 for the W.B.C. Welterweight Belt.
Whitaker again outpunched De La Hoya and scored the only knockdown, but the judges awarded De La Hoya a unanimous decision. "I was robbed again," Whitaker said afterward. "It was a blowout, a shutout. I couldn't have performed better." The rematches that Whitaker wanted against De La Hoya and Chavez never happened.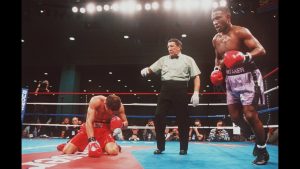 The ring remained his best place until the loss to De La Hoya. He won his next fight by unanimous decision over Andrei Pestriaev, but the ruling was changed to no decision after Whitaker tested positive for cocaine. A planned fight in 1998 against Ike Quartey, then the W.B.A. Welterweight Champion, was canceled when Whitaker again tested positive for cocaine.
When he returned to the ring in early 1999, he fractured his jaw in a decisive loss to Felix Trinidad for the I.B.F. Welterweight Title. He retired after being stopped, his shoulder injured, in the fourth round of a fight against Carlos Bojorquez in 2001. Whitaker finished his career with a record of 40 wins, four losses, and one draw.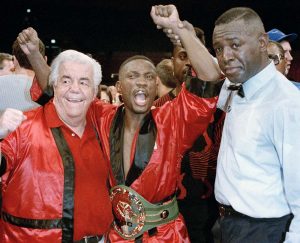 Whitaker's Legacy
Some of Whitaker's defensive tactics are popularized in the ring by a lot of boxers today. Whitaker was an elusive fighter who avoided being hit or get hurt by his opponents. "He could stand in front of you and you couldn't find him," Jim Lampley, the longtime HBO boxing announcer, said in a phone interview. "He would smile at you and demonstrate to you, while smiling, how remarkably easy this was for him."
In recent years, with the millions he had earned largely gone, Whitaker trained fighters, including Zab Judah, who won the I.B.F. World Super Lightweight Title under Whitaker's tutelage. Other then training Judah, Whitaker was absent from boxing and the media but survived by earning money at autograph shows.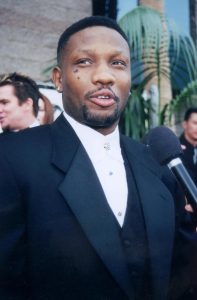 Whitaker was killed on Sunday July 14, 2019, when a car in Virginia Beach struck him. The Virginia Beach Police Department confirmed the death, saying he was crossing a street at night when he was hit. The driver of the car remained at the scene, and the police said they were investigating the incident. The investigation is ongoing, and police said they did not believe that drugs, alcohol or road speed were factors in the collision.
His survivors include his sons, Devon, Dominique and Dantavious, and his daughter, Tiara. His son Parnell Jr. died in 2015 and his marriage to Rovanda Anthony ended in divorce.