By: Veronica Guevara
We know fight fans want to get as much boxing they can get, so UPPERCUT revisited the classics and brings to you a list of boxing movies you must have in your collection, the kind of movies that take you back to a golden era, where special effects and computerized edits are replaced with superb acting and engaging dialogues. These masterpieces will give you an appreciation for the sport of boxing, with acting by some of the greats from the Golden Age of Hollywood, such as Humphrey Bogart, Kirk Douglas, and Anthony Quinn.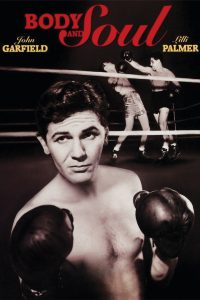 1) Body and Soul
Considered to some, as one of the greatest boxing film and was voted as the 'Greatest Boxing Movie Ever' in 2014 by the Houston Boxing Hall Of Fame, makes this 1947 flick one to see. It follows an amateur boxer Charley Davis, played by John Garfield, that after his father is accidentally killed enthralls himself into a full-blown boxing career, even against his mother's wishes. The more successful he gets the more temptations he gets in front of him, and he is faced with difficult decisions to make. This film won the Academy Award for Best Film Editing and was nominated for Best Writing and Original Screenplay; John Garfield was nominated for Best Actor In A Leading Role.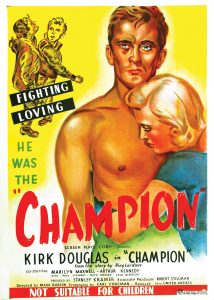 2) Champion
Kirk Douglas stars in this 1949 film and was nominated for best actor because of his outstanding portrayal of a successful boxer struggling with his inner demons. After a shotgun wedding and a need to help his handicapped brother, Michael "Midge" Kelly (Douglas) decides to get into the boxing world. He has no problem stepping over anyone including his new wife and promoter that helped him get to stardom. This film also has high ratings and reviews and won an Academy Award for Best Film Editing and a Golden Globe for Best Cinematography – Black and White.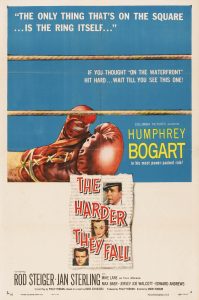 3) The Harder They Fall
Newspaper reporter, Eddie Willis, played by Humphrey Bogart, is out of money and out of a job, so he decides to work for a corrupt boxing promoter to help promote his new boxer Toro Moreno. Eddie is torn between exposing the truth to the grizzly fighter that he has no talent and all of his fights are fixed or withholding everything, in order to get paid the money he needs. Who doesn't enjoy a Humphrey Bogart flick, and not only does this 1956 boxing drama have a 100% rating in Rotten Tomatoes, but is Bogart's last film, so to say the least this is one on top of our list.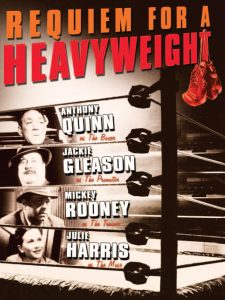 4) Requiem For A Heavyweight
You might not have seen this 1962 classic, but with the high ratings, like 91% in Rotten Tomatoes and a nomination for a Directors Guild of America Award for Outstanding Directing – Feature Film, this one is a must see. And if those accolades do not entice you, the legendary cast will, this boxing movie classic stars Anthony Quinn, Jackie Gleason, Mickey Rooney, and a young Cassius Clay before becoming Muhammad Ali. Quinn is an aging heavyweight boxer named Louis "Mountain" Rivera that faces the up and coming boxer Cassius Clay, with a humiliating lost Rivera sees that his professional boxing career is over. Gleason is his manipulative manager and Rooney is his supportive trainer.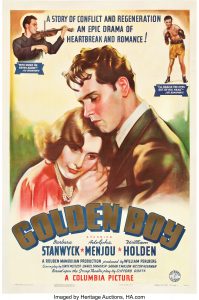 5) Golden Boy
William Holden's, one of the biggest box-office draws in the 1950s and 1960s, first starring role was this 1939 film that was first a Broadway production. Holden is Joe Bonaparte, a promising violinist, yet when he gets into financial difficulties he sets his eye on a boxing career. His promoter and girlfriend played by Barbara Stanwyck, an actress that by 1944 had become the highest-paid woman in the US, help and encourage Bonaparte to follow his successful boxing career. Even though this movie is 80 years old, the story and plot still packs a punch and will be cherished by the true boxing fans.