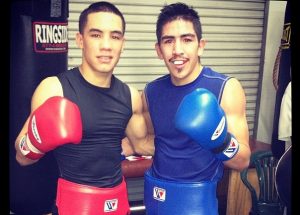 Not only is this a unification match at featherweight, but for years these two have trained in the same Los Angeles-area gyms. Both Valdez (24-0, 19 KO) and Santa Cruz (35-1-1, 19 KO) have developed followings in Southern California and this is the type of matchup that belongs at Staples Center.
Valdez, the defending WBO titlist, is scheduled to return in the early months of 2019 as he is finally recovered from the fractured jaw that he suffered in a victory over the much heavier, Scott Quigg, who didn't bother to make weight for their bout in March. Valdez, 27, is now being trained by Eddy Reynoso (best known for his work with Canelo) in hopes of rounding out his game and not making every fight so physically grueling.
Santa Cruz, 30, is coming off his second victory over cross-town rival Abner Mares, and is scheduled to face Miguel Flores on a PBC card in Los Angeles on Feb. 16. Santa Cruz remains a nonstop windmill inside the ring who just keeps throwing punches round after round and drowns his opponents with his activity level.
Why is this fight on this list? Well, ask yourself this question: Just how many bad fights have either Valdez or Santa Cruz been involved in?