By Sandra Reyes
We're sitting weeks away from some of the most anticipated fights in boxing, one being Saul "Canelo" Alvarez vs. Daniel Jacobs. The fight will be at the T-Mobile Arena in Las Vegas, NV on Saturday, May 4 and will be available to stream on DAZN.
Canelo Alvarez, 28, who actually has a five-year, 11-fight deal with DAZN that guarantees him a minimum of $365 million, is 51-1-2 with 35 KOs. Daniel Jacobs, 32, is 35-2 with 32 KOs.
It has been a few months since either fighter has stepped into the ring. Canelo's last bout was in December of last year and Jacobs's was October of last year, both were victorious. The belief is that Jacobs will be one of Canelo's stiffest competitors in his career.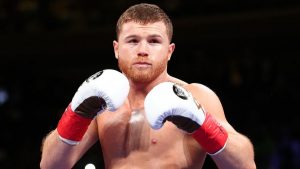 Both Canelo and Jacobs have faced-off against Gennady "GGG" Golovkin, the former unified middleweight world champ, but the outcomes were very different. Canelo first fought GGG in September 2017, but it was a split draw in the end. They faced off again in September 2018 and Canelo took the win by unanimous decision.
Jacobs was handed a loss in his bout against Golovkin by unanimous decision (115-112, 114-113, 114-113) ultimately losing his WBA belt in the fight. Some boxing pundits believed that Jacobs should have taken the victory.
Canelo stands at 5'8 and Jacobs at 5'11 but Canelo has no issue getting close to his opponents. Canelo took home the victory against Rocky Fielding in his most recent fight, Fielding is 6'1. Fielding's height and five-inch reach advantage didn't stop Canelo from closing the distance and forcing a TKO in round three.
At a press conference for the fight Canelo said that he is training for 12 rounds but "if the opportunity for the knockout presents itself, I will take it."
Jacobs is confident he will be taking the victory, "I can speak for Canelo and myself by saying that we will give everything in this fight. I guarantee I will not only be champion on May 4, but also king."
Both fighters can take a hit, if it wasn't obvious in their bouts against former champ GGG, but each has to play on their strengths. Canelo has to close the distance to be able to land the body shots that will help him bring Jacobs down. Jacobs has to be meticulous and use his distance to his advantage.
Canelo is universally recognized as a pound for pound fighter so needless to say he has a lot more to lose than Jacobs. This fight will definitely be one to watch.
Jacobs doesn't dispute Canelo's place at the head of the line in the world of boxing. As a matter of fact, it's the primary reason he wants to fight and beat the Mexican fighter with the sterling resume and he wants to be the one to put a clear blemish on Canelo.
"I understand Canelo is the super star," said Jacobs during the round table interviews. "A victory, a decisive victory will get me on that platform."
Alvarez spoke in low almost inaudible tones to the media. But though his words were soft spoken his intent was emphatic. "I want to win all the middleweight belts," said Alvarez in almost a whisper.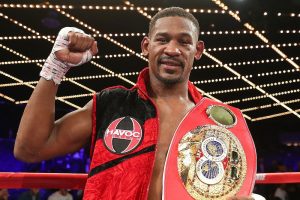 About challenging someone as dangerous as Jacobs, the Mexican champion was humble but definite in his response. "I know Jacobs is a tough opponent and it's going to be work, but I've always believed to be the best you must beat the best. I love challenges," said Alvarez. "I want people to experience a good fight when they come watch my fights. I may lose, but my heart is a winning heart and I want to give the fans a spectacular finish and I'm going to put up a good fight."
No one knows this better than Oscar De La Hoya, the CEO for Golden Boy Promotions and a former six-division world champion. "Anything can happen," said De La Hoya. "But they're not afraid to lose."
When the biggest star in the boxing galaxy is challenged, the fans are the benefactors.