By Jesús V. Jiménez
Anthony Joshua got rocked against Andy Ruiz Jr. in the WBA, IBF, WBO and IBO heavyweight world championships title fight at Madison Square Garden, New York. The Mexican-American heavyweight replaced Jarrell Miller, who was ruled out of the bout after failing three drugs tests. Ruiz Jr., the stand in, came in as a 25 to 1 underdog, as he stepped in to fight at the last minute. Ruiz Jr. had just 5 weeks to prepare for the fight of his life and he was the victor in a spectacular 7th round KO!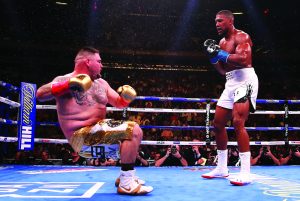 Ruiz now (33-1, 21 KOs) stunned the fight world and celebrates one of boxing's biggest heavyweight shockers of all time. Not since the Buster Douglas upset of Mike Tyson has there been such an upset. Ruiz knocked down British champion Joshua four times, and the final two knockdowns came in the seventh round with decisive blows. The champ tasted the canvas for the last time as the referee halted the bout when he believed Joshua could not continue. It may not have been Douglas upsetting Tyson, but in its own way, Ruiz's seventh-round TKO of the previously unbeaten Joshua was every bit as shocking.
California's Ruiz is making boxing history as the first heavyweight of Mexican descent to win a heavyweight title and Joshua's shares of the heavyweight championship Saturday night at Madison Square Garden. An elated Ruiz jumped 3-feet into the air after the referee stopped the bout. "I just feel so good, man," Ruiz said. "This is what I've been dreaming about, this is what I've been working hard for. I can't believe I just made my dreams come true."
It might have been Joshua's coming out and introduction to the United States and in Madison Square Garden to garner over U.S boxing fans the way he had captivated the entire United Kingdom. But no one told that to "The Destroyer" Ruiz Jr. Four knockdowns later, the British heavyweight was an ex-champion and continues the saga of another in a long line of failed British heavyweights, a line only temporarily interrupted by the reign of Lennox Lewis. Ruiz shocked the world with an upset over Joshua, and now takes all the belts putting the heavy division unification bout in disarray!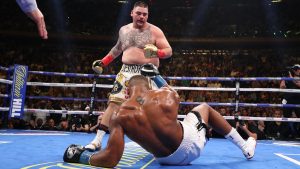 The underdog Ruiz got dropped in the 3rd round with a Joshua punch, and then Ruiz got up off the canvas to drop Joshua twice in the same round, and twice more in the seventh. Referee Michael Griffin stopped the scheduled 12-round bout at 1:26 of the 7th round with Joshua leaning against a neutral corner, a sick smile of disbelief on his face.
The mood got somber very fast for the overwhelmingly pro-Joshua crowd, some 7,000 plus who came over from the U.K. to cheer on their latest boxing great. For one night, the English fans came in support of their national champ in New York City and turned the Garden into a soccer-like stadium with a very upbeat and rambunctious British style pub, cheering and yelling for their idol. However, by the end of the bout, their cheering and singing had devolved into a shocked silence.
Joshua, a chiseled 6-foot-6, 248 pounds, had been exposed and humiliated by a challenger with the body of Moe of the Three Stooges who as his nickname name says "The Destroyer," clobbered and destroyed the titleholder. Joshua previously undefeated and fighting for the first time in the United States, was defending his IBF, WBA and WBO titles but was knocked down four times in the fight before the referee waved off the contest in the seventh.
Joshua said he could have fought on but had no harsh words for the referee. "I want to fight. I am never one of those fighters to disrespect a referee like 'he should have done this' or 'he should have done that,'" he added. "He called it off when he thought I couldn't fight. It's a shame. But I don't want anyone to drown in their sorrows." The defeat was a setback but Joshua said in a positive tone that he would be back.
"Boxing is a tough sport. I trained hard, I stayed dedicated. And I just got beat by a good fighter tonight," he said. "It'll be interesting to see how far he goes but good luck to him. "I got to bounce back. This is all part of the journey. Fighter by heart, boxer by trade."
Ruiz was not given much chance of beating the champion. Joshua, still wearing a bemused smirk on his face after the stoppage, spoke into the ringside microphone. The crowd that had come to cheer him booed him. Not only did Joshua lose his title belts and aura of invincibility, but also the prospect of a mega bout against Deontay Wilder, his American counterpart and the WBC titlist.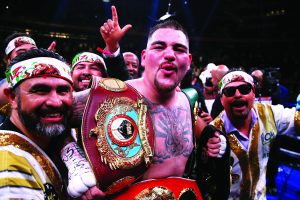 Joshua's U.S. debut came in his 23rd professional fight. He was defending his slices of the heavyweight title — Wilder has the other one — and although he gave away more than 20 pounds to the 5'11" Ruiz, he enjoyed massive advantages in height, reach and athleticism.
It was Joshua's fourth world title fight since he burst onto the scene in April 2017 with an impressive 11th-round TKO of defending champion Wladimir Klitschko before 90,000 fans at Wembley Stadium, a fight in which Joshua overcame a sixth-round knockdown to outlast his 40-year-old opponent. Joshua had been decidedly less spectacular in his ensuing three fights — a 10th-round TKO of Carlos Takam in October 2017, a unanimous decision over Joseph Parker in March 2018 and a seventh-round TKO of Alexander Povetkin in his most recent fight last September.
In addition to his unbeaten record and impressive physique, it was Joshua's ability to sell tickets in the U.K. that made him an especially attractive prospective opponent for Wilder. The Takam and Parker fights drew 80,000 fans to Principality Stadium in Cardiff, Wales, and his defense against Povetkin once again sold out Wembley.
Ruiz was a late substitute, signed for the fight in late April after Joshua's original opponent, Jarrell "Big Baby" Miller was disqualified after failing multiple pre-fight drug tests, Luis Ortiz priced himself out of the bout and Adam Kownacki turned it down.
Ruiz, who had lost a close decision to Parker in 2016 in his only other world title challenge, jumped at the opportunity to make by far the largest payday of his career, believed to be in the range of $2.5 million.
Eddie Hearn has confirmed that a rematch between these two heavyweights will take place in November or December.